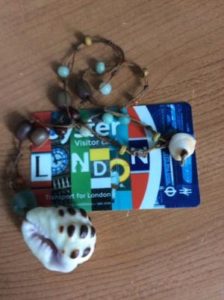 Was there a reason I went to England, I was asked? I suppose there was. At the time, it was a vacation promised my 12-year-old, who as the youngest of three spent a great deal of time the past few years in airports seeing her siblings and/or mother off on trips, never to take one herself. "I like airplanes," she reminded me plainly this past spring after yet another person's travel plans were finalized. So, I promised her a trip, initially someplace in our home country of Canada. When a quick search had me utter in my outside voice that London was cheaper than most domestic destinations, my little Harry Potter fan launched her flight plan and within an hour had a complete itinerary of HP hotspots (with a Downton Abbey tour thrown in for her old mom) if we were to travel to England. So in Hawaii 5-0 fashion I booked it, Dano, and we prepared for five days and nights of London (and Oxford/Bampton/Highclere) in early August.
Was it a work trip, I was asked? A writer's getaway?
Initially, no. I did pack a journal and pen. This was just five days of being open to all the firsts – new country, new city, and new role – that of leader rather than follower where travel was concerned. I've been a few places, foreign and domestic, but always as part of a family, group or partnership in which I was the least experienced. Never did I have sole responsiblity for myself, let alone my child, in a place where we knew nothing and no one. It turned out this trip was a most powerful invitation to that part of myself too long hidden, the part I needed to not only have a safe and awesome trip, but to write the stories I'm called to write, the live the authentic life I'm called to live, the part of ownership and trust in my decisions and actions, faith in the unknown, power where powerlessness too often festers and consumes.
Life is not a spectator sport, yet for much of my life I have been doing just that: observing, imagining … but rarely doing. I learned that from my parents, and they from theirs. Stay safe. Engaging in just about anything carries a risk. Be content with where you are and what you have. No need for more.
In a city such as London, however, there is more with every step: history, connections, awareness, invitations to delve into the past or create the future, all while committing the present to immortal memories. To stand in  the shadow of a building that has weathered a thousand winters, to watch a street poet create an original artwork before your eyes, to meet people from all over the world who share the same interests as you – it's all there, but you have to walk there and be open when you arrive. I had two choices: stay safe and stick to the street near our hotel, or trust that I can do what millions of people do every day, get on the tube and allow it to take me.  Once the decision to leave the comfort zone was made, there was no going back. There were moments I was too exhausted to take another step, but what else can you do? There was no one to come fetch us, no way to get out of the station except up that massive flight of stairs. At one low point I am staring at a map of the stops, not recognizing a single name and saying out loud, 'what are we going to do?' The choices, no matter how unappealing, were simple. We either find a way home or stay the night right there in front of the map. We did the unthinkable. We reached out to a stranger. With their hints we figured it out, we as in my daughter and I, she at 12 with the wisdom of an ancient, me pushing 50 but in the moment going on 5. As fearful and frrustrated as those low moments were, her brilliance continued to warm my darkness and call me out. When I looked around, I realized we were far from alone and in fact, often knew more than many of the folks huddled over their maps, appearing desperately lost. The world is made up of all ages and abilities, reisdents and tourists, each a blend of lost and brilliant; the London Underground is a perfect slice of that to be examined and savoured, if you alliow yourself the space and time to abosrb the journey as well as the destinations.
The cashless ticket that gets you on London's extensive transit network is an Oyster Card. Theories vary as to the origin of the name. As an oyster protects its pearl, the loadable card protects your cash and access. Hong Kong has the Octopus, so London kept with the marine theme. A play on the phrase "the world is your oyster." Interesting that an oyster produces a pearl out of sheer irritation; that damn grain of sand that it cannot expel or ignore. London's underground was the sand in my shell: each day began with 'how will we get there' and the gut-churning invited by the unknown. After five days, I did not have a pearl, but I did have a piece of my life back.
And I can't wait to go back for more.
And I can't wait to write about it.
Why London? It was what I needed. To show my daughter things are possible if you allow space to imagine, create and do. To prove to myself I am enough. And to let her show me children are far more aware than adults, that invitations are all around me if I choose to listen.
That may have nothiong to do with writing for some. For me, that has everything to do with my writing. Space. Listen. Do.
Thanks for being here.
Jennifer Hatt is author of the Finding Maria series and a partner in Marechal Media Inc.