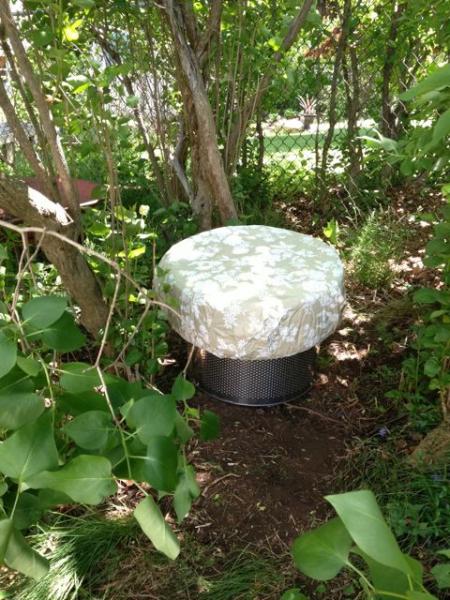 Storage of our stuff is a multi-billion dollar industry in North America. How much do we invest in our head space? We pay hundreds for the perfect shelving unit to hold books (proper thing, of course!), ornaments and electronics. What about all those experiences housed in our body and mind: how much do we invest in processing, sorting and storing those?
Now at Day 17 of my 30-day exploration, I have learned that Week 1 was on fuelling the body (water, food, relaxation, sleep) and Week 2 was on feeding the senses (favourite things and songs, friends, scents, the natural world). In Week 3, I am feelng the need for not just time to process the inputs, but conducive spaces as well. I am drawn to rooms with sunlight, need to open windows for breeze and scents, and have been outdoors as much as I'm able. But I'm also being creative with how I interact with my indoor and outdoor spaces as well.
One creation: my tuffet. Yep, just like the girl and the spider. Two years ago, a storm blew down an tree in the midst of my lilacs, leaving a gap that begged for a seat. This past weekend, my family and I created one, out of a repurposed front-load washer tub, old truck tire, hardwood seat from an old kitchen chair and a vinyl tablecloth left behind in our cottage. My children christened it The Tuffet. Picture a mushroom with a metal base, giving a seat surrounded by lush leaves and topped at the moment by lilac blooms. Cost? A bit of imagination and effort to assemble. Payback? Even thinking about it makes me happy. Five minutes on my tuffet and I have been transported to a different world and back. Surrounded by soft scents and cooling breeze, my mind is clearer, breathing is calmer. The solution was there all the time. I didn't need money or time, just the headspace to pull together a few things and make the priority. Now I have a connection to my yard, my home, and my mind, body and spirit. And, a cool place to hide.
Thanks for reading. See you tomorrow.